Flocknote
Dear Friends and Parishioners of Sant Michael the Archangel,
We hope Holy Week is going well for everyone. We also hope everyone is staying safe and healthy. As we enter into the Triduum services, (three days) which are the summit of the liturgical year; we wanted to remind you of the opportunities to worship together in live-streaming. 
First, if you missed today's last Stations of the Cross for this 2020 Lenten season, here is the recording of Father Michael's hour of prayer and reflection including The Way of The Cross.
Click this link:
The remaining streaming Masses and Services are:
Holy Thursday 4/9 at 7:00 pm
Good Friday 4/10 at 3:00 pm
Holy Saturday Virtual Blessing of Easter Baskets 4/11 at 12:00 pm
Holy Saturday 4/11 Great Easter Vigil at 8:00 pm
Pray especially for our four members of our congregation in the RCIA Program who were to be received into the Catholic Faith at this Vigil Mass, Jason, Paula, Wendy, and Will.
Easter Sunday 4/12 at 10:00 am
Two links below to all the live streaming Masses - sign on early if possible:
Website
https://www.stmichaelssiesta.com/
Directly to Live-Stream
https://st-michaels-church.click2stream.com/
We are grateful to all of you who have been able to join us for our various liturgies over the past number of weeks. All of us are praying for your safety and all of your loved ones. Let's walk with Jesus through his Passion and Death in anticipation of the joy of the Resurrection on Easter Sunday morning.
HOLY WEEK FLOCKNOTE FROM FR. MICHAEL:   April 6, 2020
I want to wish everyone a blessed Holy Week.  Yes, it is going to be a Holy Week with a difference but nevertheless, these are still the most solemn and holy days on our Christian calendar.
I am going to be offering all Holy Week Services that we usually offer.  For reasons that are obvious, most of them will have to be adapted to our current circumstances.
Holy Thursday at 7:00 pm
There will be no foot washing at the Evening Mass of the Lord's Supper on Holy Thursday.  Neither will we have a procession to the Altar of Repose following the Mass.
Good Friday at 3:00 pm
We will offer the passion of the Lord without our beloved congregation.  That means that there will be no Veneration of the Cross and no distribution of Holy Communion.
Holy Saturday at 12:00 pm
On Holy Saturday, I will do the Blessing of Easter Baskets at 12:00 pm.  For those wishing to participate in this blessing, please have your baskets ready and prepared at home and join with me as I live-stream the blessing.
Holy Saturday at 8:00 pm
We will celebrate the Easter Vigil commencing at 8:00 pm.  This will include the Blessing and Lighting of the new Paschal Candle, the Liturgy of the Word, the Blessing of Easter Water, the recitation of the Exultet followed by Mass.
We have four members of our congregation in the RCIA Program who were to be received into the Catholic Faith at this Vigil Mass.  Sadly, due to the circumstances, their reception into the Church will have to be rescheduled.  I feel badly for them and the RCIA team who have journeyed together for the past number of months to make this happen.  Please don't get discouraged.  Your welcome into the Church will be a wonderful and special event when it occurs.   God's time!
Easter Sunday at 10:00 am
On Easter Sunday we will celebrate Mass which will be live-streamed, at 10:00 am.
I am so grateful to all of you who have been able to join us for our various liturgies over the past number of weeks.  It is far from ideal, but we are doing the best that we can.  Please know that I am praying for safety for each and every one of you and your loved ones. These are indeed difficult times, but God remains close.  Let's walk with Jesus through his Passion and Death this week in anticipation of the joy of the Resurrection on Easter Sunday morning.
Love and blessings to all,   
Fr. Michael
I want to begin by saying thanks to all of you for signing up for these Flocknotes.  It gives us an opportunity to stay somewhat connected.  As many of you are aware, we offered this service initially so that we could keep in touch with you regarding our building project.  Never in our wildest dreams did any of us foresee us using Flocknotes to stay in touch due to a lockdown.  But that is our reality here in Florida as in many other States as well.
I offer prayers every day for the safety of each and every one of you.   The Masses I celebrate (Weekdays at 9:00 am and Sundays at 10:00 am -all live-streamed) include the intentions of all of you and your loved ones.  I am grateful for a remembrance in your prayers also.
We had some issues with our live-streaming when we began two weeks ago but I believe that these have now been addressed.  We brought the camera closer and we repositioned the microphone.   I know that many of you have been following us and I am grateful for that.  Celebrating Mass in an empty church is such a different experience but knowing that so many of you are praying with me albeit from your homes, is comforting.
Our lockdown began last night so our staff will no longer be at the office.   The phones will be answered should anyone need to reach us in an emergency.  Some of you have made your weekly contributions to the parish by mail and we are extremely grateful for that.  Others have come forward to generously offer extra support.  Thank you so much.  These are harrowing times but let's remain together confident in the knowledge that God is truly with us.
I am going to add my homily from this morning's Mass for you in case you might not have heard it.  Today's scriptures offered great comfort to me.  Hopefully to you also!  -Fr. Michael

Lent Week 5 -Friday
Fr. Michael Cannon -Homily
One of the most amazing things in the life of Jesus is the fact that so many people rejected him.  Jesus is the personification of all that is good and holy.  Not only did he preach the goodness and love of His Father for all humanity, but he revealed that goodness and love by his actions.  When someone wanted to stone him, he asked: "For which of these good works do you stone me?"
But the rejection that Jesus suffered was nothing new.  Jeremiah whom we meet in today's first reading did nothing but speak truth in God's name and he received similar treatment.  When he warned the people about the destruction of Jerusalem unless they changed their ways, he was arrested, beaten and put in stocks.
But neither Jesus nor Jeremiah allowed themselves to be inwardly destroyed by this treatment.  Jeremiah's words in today's reading tells us why.  "But the Lord is with me, "he said.  "O Lord of hosts, to you I have entrusted my cause, "he continued.  And Jesus throughout placed full trust in his Heavenly Father.
We may not be experiencing the rejection of Jesus or Jeremiah in our lives right now, but we are in times of distress.  There is anxiety out there.  Many of us have a sense of uncertainty over this dreadful virus that is sweeping our world.  Isn't it strange that the world has never been more united?  The primary enemy isn't each other- it's a virus and we must be united in overcoming it…
I find great consolation today in the response to our Psalm: "In my distress, I called upon the Lord, and he heard my voice."  And the words of the first verse: "I love you, O Lord, my strength; O Lord, my rock, my fortress, my deliverer."
In my distress, I called upon the Lord, and he heard my voice.  I love you O Lord, my strength; O Lord, my rock, my fortress, my deliverer."  Our mantra for today…
Many of you have been struggling with sound on our Live Streaming Masses.
Here is an attempt at a brief tutorial in case you need to know how to turn on sound. The default setting in most browsers (Chrome, Safari, Internet Explorer, etc.) is sound off.
When you "hover" your mouse (pointer) at the bottom right of your screen there is a small icon of a speaker and soundboard. 
I've shown the icons in the picture below, the extra icon picture is a zoomed-in image of that corner. 
We are working to improve all aspects of our Live-Streaming.
3/27/2018 9:00am

Father in Heaven, have mercy on us and on the whole world. We come to you today with our fears and concerns -- You know what's in our hearts. We love You, trust You, we need You. We ask You to be with us. Stay with us. Help us through these times of uncertainty and sorrow.We know you are the Divine Physician, the healer of all. And so we ask that you bring your loving and healing presence to all those who are sick and suffering right now. Please comfort them.Please be with the grieving families of those who have passed away. 
Please stand at the side of all medical professionals who are putting themselves at risk while they work to bring healing to others.
Help us to continue to return to You with our whole hearts throughout this ordeal and the remaining days of Lent. In the name of the Father and of the Son and of the Holy Spirit.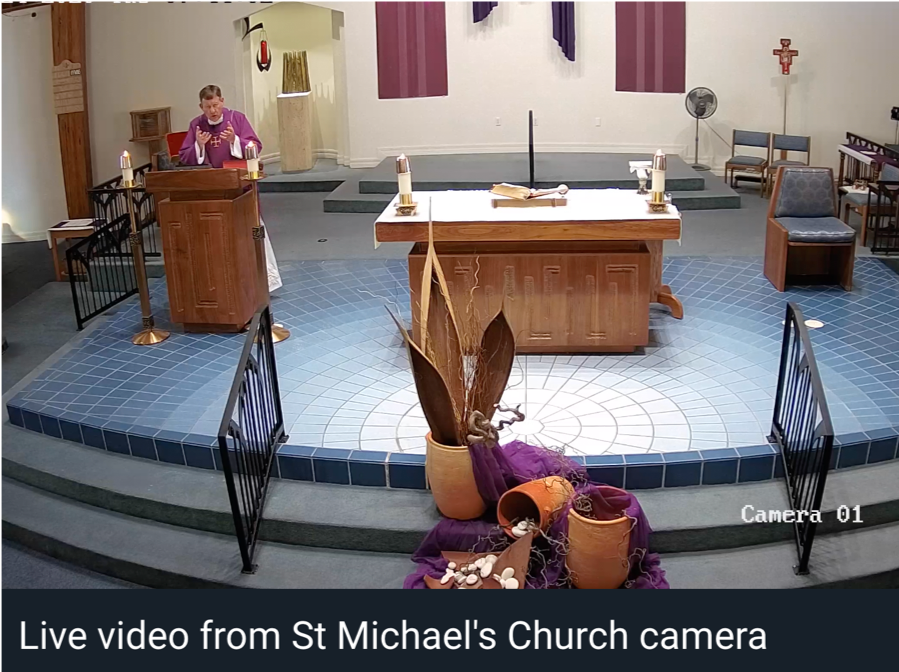 3/21/2018
My dear friends,
We are in strange times indeed! This experience is not something that any of us could have imagined. Even though this territory is uncharted, we are traveling together. We are united in prayer and God is at the helm. No matter what happens, it is essential that we never forget that we are not alone. As a parish community, we are here for each other and because God is journeying with us, we are going to make it safely through.
You may already have heard that we are going to live-stream Masses from Saint Michael the Archangel every day. Masses on Monday through Saturday will be at 9:00 a.m. and Sunday Mass will be celebrated at 10:00 a.m. I have never celebrated a public Mass without a congregation in my 38+ years as a priest. I know that many of you will be watching and praying with me as if you were physically present. That is a source of great comfort to me. I will be praying for each of you at all our Masses and I ask for remembrance in your prayer at this time also.
As we move forward, I would like to offer some more spiritual exercises from time to time through our live-stream. I am not certain what exactly that will be but I will inform you through our parish website and through Flocknotes. We are trying to find some semblance of normalcy in this strange place we still call home.
Sending love and blessings to you all.
Fr. Michael 
--------------------------------------------------------------------------------------------------------
Website
-or-
Directly to Live-Stream